About
Chemneera combines chemistry with engineering and business technology.
This combination of technology and science with management systems provides a unique basis for strategy consultancy advice. Founder Martin Schlegel is Principal Consultant of Chemneera.
As a global collaborator with years of experience in the sports and recreation, construction and polymer-specialty chemicals industry in areas of IT, product development, process engineering and research & development commercialisation, Martin spends his time on novel concepts that will stretch the boundaries of current thinking and practice. Based on identifying gaps in others' solutions and offering many sometimes conflicting alternatives and sometimes paradoxical insights, he engages internationally with startups, small-to-medium enterprises (SME) and subsidiaries of multinational corporations (MNC) to identify growth and export opportunities, develop business strategy by way of digital transformation, and commercialize research and development through open innovation.
"Perpetual cascade of ideas"
Through his know-how and broad understanding of the technology used in the sports and recreation industry, Martin is an invaluable asset if it comes to resolution of issues or transfer of skills no matter if they are communities, companies or people.
---
What is Sports Technology?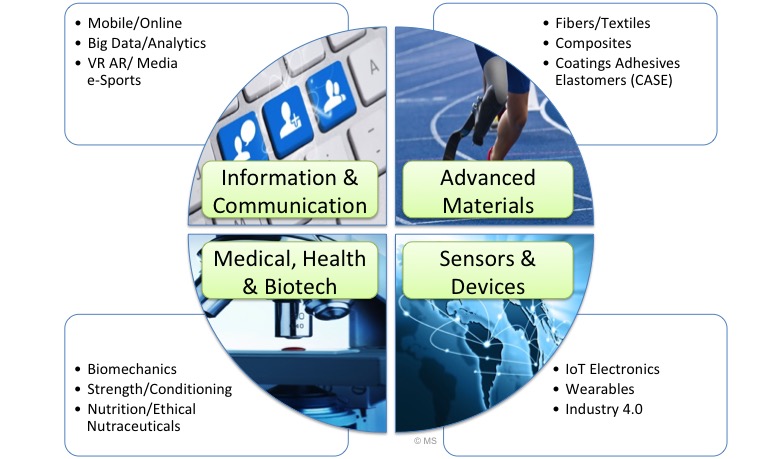 © Copyright


Sports Technology Stack

© Copyright
---
Mission Statement
Strategy consultancy that assists communities, companies and people to select the right technology to improve life.
Market Need
Expert advise with regards to selecting the best technology to solve a problem or achieve an outcome. Chemneera offers a wide range of consultancy services from resolution of issues to transfer of skills as defined by the client need.
Competency to fill it
Highly experienced senior executive with strong commercial acumen and broad experience across manufacturing and research organizations. Visionary leader with proven success managing complex transformation and organisational change.
Strong research experience and focus (including formal qualifications) on quality, ISO standards and lean tools, demonstrable success building brands and managing business growth with specialised experience managing mergers and acquisitions and optimising production facilities globally.
Passion to do so
Excellent interpersonal skills with the ability and confidence to build strong and successful stakeholder relationships at all levels, having built and maintained an extensive network of high-level local and global contacts.
Proven ability to adapt and change within a fast paced, high profile environment; and experience developing and effectively communicating strategy to a broad audience. Ability to maximise performance outcomes, meet agreed KPIs, and proactively ensure compliance with changing standards and legislation/regulation. Strong political and cultural diversity, managing multi-disciplinary, geographically dispersed research and management teams.