Athlete Success in Super Shoes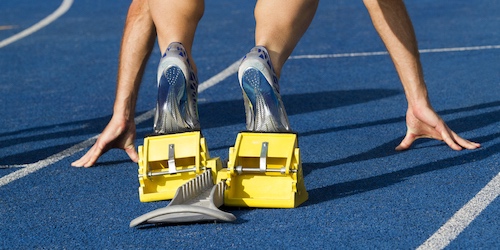 2021-08 Following the Tokyo Olympics, a number of media articles have reported on advancement in footwear technology and its impact on athlete performance. Terms like 'super shoes' or 'trampoline spikes' have been used to describe the controversy [1] that has been likened to the discussion about the full-body swimsuit which was banned in early 2010.
Advanced footwear technology
Generally speaking, design concepts of athlete footwear should address three factors: Cushioning, foot stability and energy return. It is widely accepted that suitable solutions attending to these factors depend on running speed, material stiffness of both the shoe and the ground as well as the athlete's condition, e.g. fatigue of the musculoskeletal system. For some time, advanced material have been used in shoe design from the outsole, mid- to innersole. Different shock absorbing materials ranging from rubber, foam, gel and thermoplastic polyurethane have been introduced. In addition, as capabilities in additive manufacturing, like 3D printing or knitting, continue to develop further, complex three-dimensional structures or elastic plates have been incorporated into the design of an ever-more sophisticated combination of shoe soles and light-weight uppers.
Sports governance
Accordingly, the world governing body for track and field, World Athletics (formerly known as IAAF, the International Association of Athletics Federations), maintains a detailed regulatory framework providing controls over equipment, apparel, footwear and surfaces.
Additional information
If you like to understand further details in relation to the technology of athlete-surface interaction and its sports governance regimes, please contact chemneera.
References
[1] News Article published by Business Insider on 7 Aug 2021 (see here)