chemneera new member of Global Expert Networks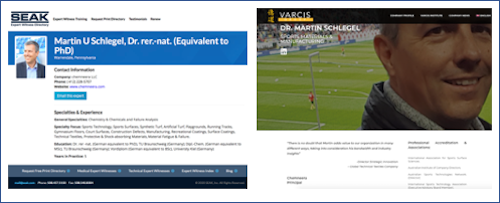 2020-07 chemneera's Dr Martin Schlegel has been listed in the SEAK Expert Witness Directory (SEAK) and admitted as a member of the Varcis Institute Global Expert Network (VIGEN).
Expert witness directory
SEAK is a training and support organization that publishes an expert witness directory annually. chemneera has been listed for expert witness service in sports technology, sports surfaces, synthetic turf, artificial turf, playgrounds, running tracks, gymnasium floors, court surfaces including construction and manufacturing defects, recreational coatings, surface coatings, technical textiles, protective & shock-absorbing materials as well as material fatigue and failure.
VIGEN consists of a group of world-class technical experts, subject experts and academics selected from around the globe. VIGEN has been established to support the research, education, due diligence and analytics services of Varcis Institute. The Varcis Institute is the market-leading research, intelligence and training engine of the VARCIS sports and health technology ecosystem, dedicated to producing unmatched insights on the intersection of the business of sports, sports technology and capital markets.
Additional information
If you have questions about our advisory service including root-cause analysis, sustainability and technology application please contact chemneera.