Only open platforms are the future of connected fitness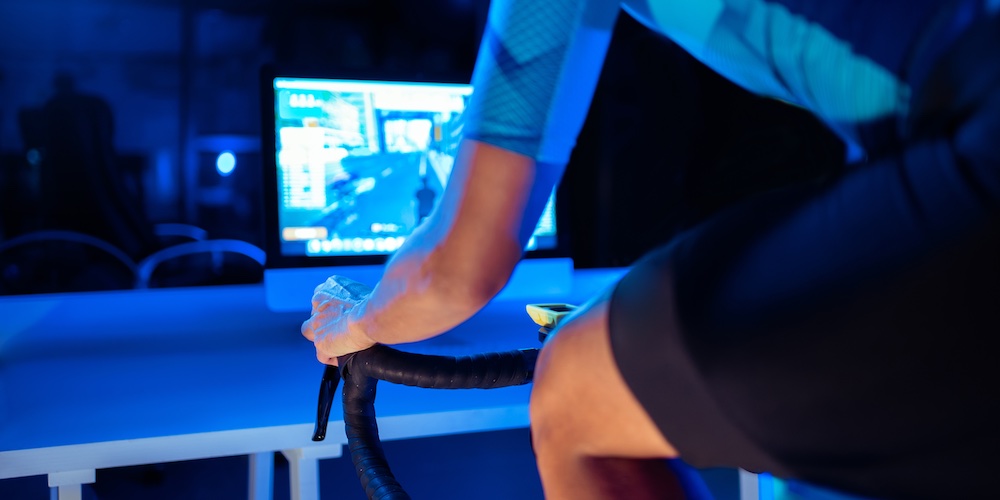 2022-01 The question, what role technology plays when it comes to the future of the fitness industry, has been subject of many studies and opinions. The pandemic has accelerated the digital transformation across sport and fitness in many ways.
Quantified-self and IoT
The proliferation of non-invasive sensors and wearable devices has fuelled the tendency amongst athletes of all abilities to monitor their activities, training progress and performance improvements. The role of technology and the notion of the Quantified-Self as a starting point for the internet of things (IoT) connecting people, objects and services has been documented [1]. According to studies, about 70% of active people are using a mobile app to track their activities [2]. The same study concluded that 2/3rd of people prefer a workout in groups. This preference has accelerated the rise of virtual competitions, connected in-home fitness and online coaching sessions during the pandemic.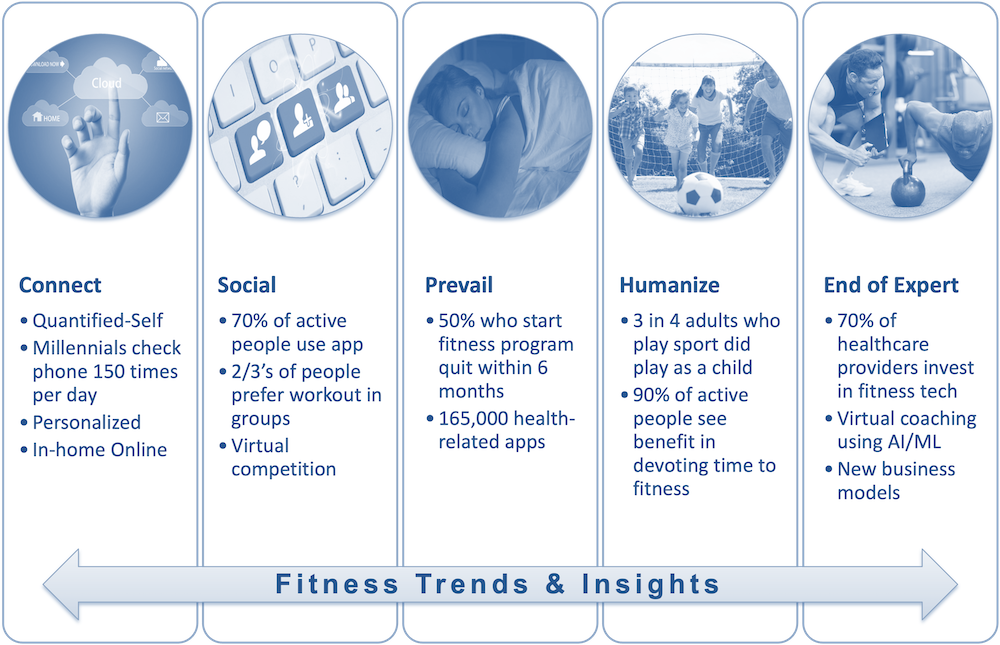 Fig. Trends and insights of connected fitness [1] [2]
COVID and connected home fitness
Connected fitness equipment can enhance a physical exercise or training session through personalized workouts, gamification and virtual competitions. If combined with tracking, data recording and advanced analytics, even further possibilities emerge for virtual coaching using artificial intelligence and machine learning. As people retreated into their quarters during lockdowns, connected at-home fitness equipment and workout apps saw rapid adoption across the globe [3]. For example, the interactive fitness equipment platform, Peloton, reported total revenues rapidly growing from $915.0 million in 2019 to $1,825.9 million in 2020 and again more than doubling in 2021 to $4,021.8 million [4]. However, whilst the company has enjoyed significant growth in revenues, it has remained unprofitable with reported net losses of ($195.6) million in 2019, ($71.6) in 2020 and ($189.0) million in 2021. Across the press in the tech sector and financial markets, voices are getting louder questioning not only the technology used but also the viability of the business model [5].
Platform Business Model
Contrary to a common misapprehension, a platform is a business model and not just a piece of technology. Many of today's biggest and cutting-edge companies are based on a platform business model, a multi-sided market connecting, for example, buyers, sellers, providers, hosts and users. Revenue creation and profitability depends on the platforms ability to monetize interactions of multiple market participants via transaction or subscription fees, advertising or the capability to leverage user data. One of the success factors of a profitable platform is based on providing a great user experience. In addition, the engagement process needs to be simple and facilitated by a continuously improved infrastructure which enables matching users on the platform. However, what seemed reasonable during the lockdown-period of the pandemic, does not necessarily translate into the future. Whilst sales of connected home-fitness equipment and connections to a like-minded online community had been selling and growing during lockdowns, the offer going forward needs to be attractive enough to compete as people revert to gyms or outdoor activities. Competitive pressures from other platforms seem to indicate that Peloton has not managed to lift customers from 'behavioral to attitudinal loyalty'. In addition, trying to lock-in customers without building such attitudinal loyalty rather than openly connecting with other services preferred by users, diminishes the user experience and ultimately results in a loss of customers.
As such, it is important to remember for upcoming platform providers in sport and fitness to embrace openness and integration unless you have already built a captive audience of millions of users like some of the tech giants who have or are now entering the fitness and sportstech market.
Additional information
If you are interested to further learn about the future role of technology and platform businesses models in the sportstech industry, please contact chemneera.
References
[1] Schlegel M.U., Hill C. (2020) The Reach of Sports Technologies. In: Schmidt S.L. (eds) 21st Century Sports. Future of Business and Finance. Springer, Cham. https://doi.org/10.1007/978-3-030-50801-2_6
[2] Burr, S. (2017). Adidas Digital Sports Fitness Survey
[3] How connected fitness became the new obsession. Financial Times (2022). Retrieved from https://www.ft.com/content/8fe94eef-1077-4eaa-8192-26013f7931ea in January 2022
[4] Peloton – Annual Reports. Retrieved from https://investor.onepeloton.com/financial-information/annual-reports in January 2022
[5] Peloton is spinning out of control. Gizmodo (2020). Retrieved from https://gizmodo.com/peloton-is-spinning-out-of-control-1848399532