Risk of a fragmented future in sports broadcasting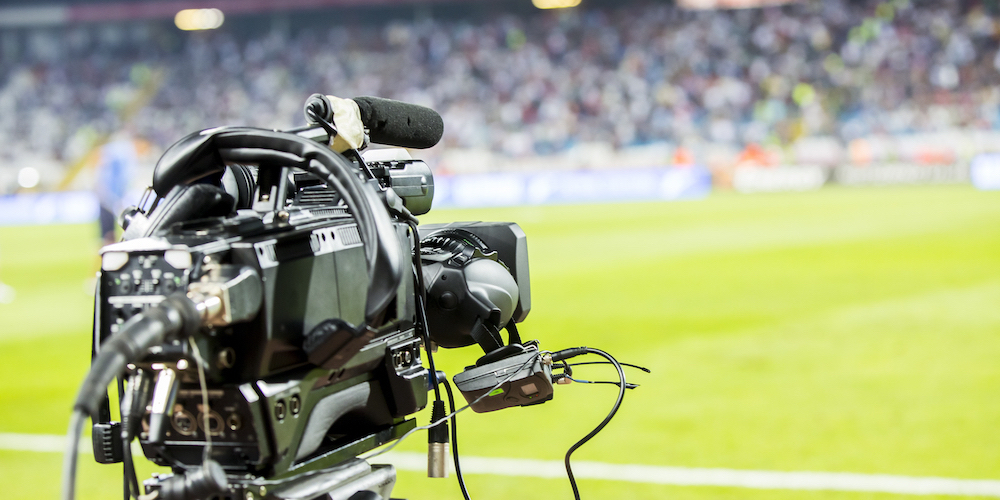 2022-07 The new norm within sports broadcasting has quickly begun to shift towards streaming and over-the-top (OTT) media services. Gone are the days when sports were all broadcast through traditional television networks. This is especially true for the different leagues broadcasting deals in international markets; even those leagues that still broadcast through traditional television networks, particularly in their own domestic market, also now incorporate streaming alternatives.
Recent Partnership between Apple and MLS
The newest league to incorporate streaming and over-the-top (OTT) media services and fully move its broadcasting rights to a streaming service is Major League Soccer (MLS). The MLS has recently struck a deal with Apple to make their streaming platform, Apple TV, the exclusive destination to watch every single MLS match live, beginning in 2023. Touted by the MLS and Apple as a historic deal for the sport, the arrangement allows fans to watch all MLS, Leagues Cup, and select MLS NEXT Pro and MLS NEXT matches in one place, anywhere and anytime they want – no fragmentation, no frustration and without any local broadcast blackouts or the need for a traditional pay-TV bundle. This offer presents the league with a huge growth opportunity as the MLS commissioner mentioned that MLS will reach fans everywhere: "Backed by Apple's best-in-class user experience, it will be incredibly easy to enjoy MLS matches anywhere, whether you're a super fan or casual viewer." [1].
Fragmentation of traditional sports broadcast
The ability to have all the games within a league available to the consumer in one place, has always been promoted as a big upside of streaming when looking to access both live and on demand content. Streaming has been discussed as the solution to the fragmentation within traditional sports broadcasting, allowing every fan to access every game irrespective of location or local market. Another similar example within the US market is the National Football League (NFL) and its broadcasts. Fans outside of their favourite team's local markets are likely to have problems watching their team outside of prime-time games. Due to the high number of games played at the same time outside of the prime-time slots, the broadcasting partners of the NFL need to choose which games to broadcast within their different markets. Because of this, an out-of-market sports package called NFL Sunday Ticket was created for the NFL, which is targeted at these fans who are unable to watch their team's games on local television because they do not reside in one of that team's markets. The package is currently distributed in the United States exclusively by DirecTV. However, With DirectTV's current rights deal expiring after the 2023 season, the NFL has received bids for their domestic out-of-market Sunday ticket package from some of the biggest companies in the world in Apple, Amazon and Disney [2]. Amazon has already recently acquired the rights for the Prime-time Thursday Night Football broadcast, and this is just another part of the NFL's Broadcasting ecosystem within the US Market that may be transitioning to streaming and OTT media services.
Streaming – a consumer's blessing or curse?
Despite the benefits and the trend of all these leagues moving to streaming and OTT media services, the question has to be asked, is having all these different sports and sporting leagues spread across this vast number of streaming platforms really what is best for the consumer? If one looks at an average avid soccer fan in Australia for example, most soccer fans would support a team in one of the top 5 European leagues. If this fan wanted to watch every game of their favourite English Premier League team, for their league games they would need to purchase an Optus Sports subscription, for their Champions League games a Stan Sports subscription and that still doesn't gain them access to watch their team compete in domestic cup games. Spare a thought for this fan if they also support their local A-League team or even another team in one of the other top five leagues as that would set that fan back another two separate subscription fees. As one can see, it quickly becomes a slippery slope that can end up setting fans back quite a hefty price.
League's broadcast in their domestic market seem particularly fragmented
Initially, fragmentation of content was part of traditional broadcasting as more cable TV stations and pay-TV services emerged. A similar development can be observed in the OTT streaming market which ultimately may hurt the consumer again. From the point of view of the consumer, they end up being put in a difficult position whether the cost is worth it. As a result, often a decision is made to cancel one or the other subscription causing a sport or league to fall to the wayside. Depending on market and sport interest of the consumer, the more fragmented the sport broadcast is in a particular region, the more subscriptions might be required. This is ultimately reducing the accessibility of these leagues and sports for these fans and making it harder for them to support their favourite teams. Even in countries where one or a couple of streaming services dominate the market such as in Germany with DAZN for example, the rights in some of the leagues are spread across multiple different platforms. We see this in Germany's own domestic league with DAZN getting the exclusive rights to the Friday and Sunday matches in Germany while Sky Sport has the Saturday, Tuesday and Wednesday games and ProSiebenSat.1 only receives the occasional game. This fragmentation is the case within many countries when it comes to broadcasting their domestic league (see table).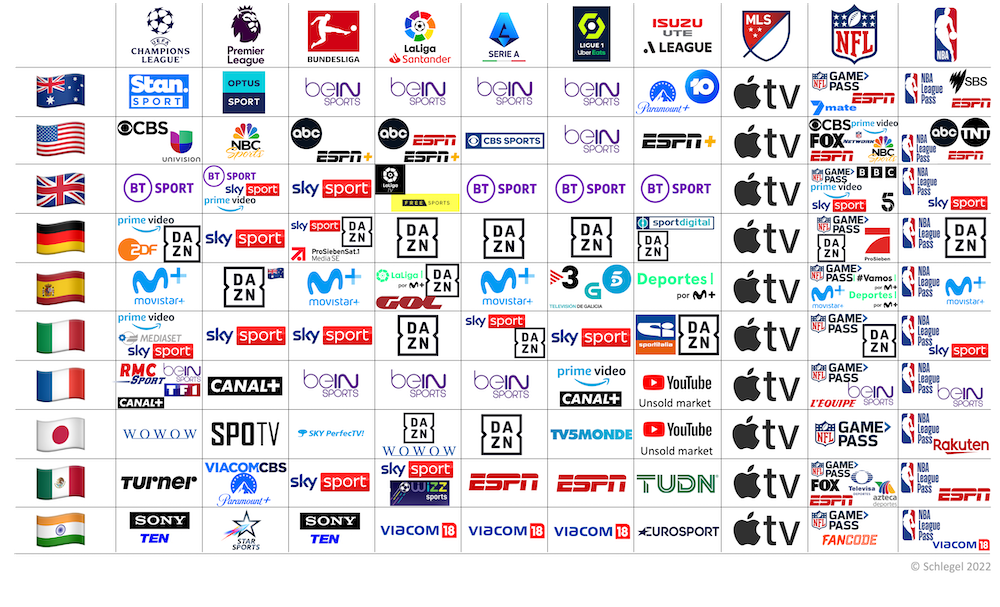 Sport broadcast not the only content transitioning
We've seen a similar trend happen with the emergence of these different streaming services. In the past when it was just Netflix it was quite an ideal situation for the customer. There was just one small monthly subscription fee and they'd have access to thousands of shows. However, now with companies such as Stan, Disney+, Amazon, Binge, Apple TV, Paramount+ and many more just for the Australian market specifically, customers often need to commit to subscribing to multiple different services or miss out on gaining access to the content they want. Often, once again resulting in the consumer having to make a decision on which services are needed and cancelling other subscriptions. We can see the negative effects this has had on Netflix with them having lost almost a million users in the last quarter, marking the second quarter in a row they've lost members [3]. Combined with the 200,000 users Netflix lost in the first quarter this marks the first time they've lost subscribers during a quarter in 10 Years [4]. This can in part be attributed to the large number of competitors launched within the last few years.
Test market Australia – a downside to experimentation?
There are also still issues that plague live streaming services, particularly, to this day. Issues such as connection interruptions for users who do not have the strongest internet connection, lagging or poor-quality streams, transmission delay, poorly designed or poorly optimised platforms etc. It was not that long ago sports fans experienced the fiasco in Australia with the coverage of the 2018 World Cup. Where Optus, the primary broadcasters of the event, fumbled the ball on the coverage and ultimately resulted in the rights being passed on to SBS. Optus Sports had problems with their streaming network consequently leaving users unable to reliably watch the games and leaving them very frustrated with the company. Optus could not accommodate the high level of demand for streaming the World Cup and blamed the technical issues on "unprecedented demand" which people found quite ridiculous as the World Cup is one of the biggest sporting events in the world [5]. Many fans are willing to cut and move from traditional cable packages and broadcasting in favour of streaming services if the quality of the experience was good enough. In particular, there being no delay in the broadcast is important with fans' new habit of second-screening. Many fans now simultaneously consume live events alongside another screen viewing content such as stats and scores, highlights etc. ensuring the live stream is not beaten by spoilers from the broadcast, making streams without delay even more crucial [6].
Additional information
If you are interested to discuss further, please contact chemneera.
References
[1] https://www.apple.com/newsroom/2022/06/apple-and-mls-to-present-all-mls-matches-for-10-years-beginning-in-2023/
[2] https://www.sportspromedia.com/categories/apple-amazon-disney-nfl-sunday-ticket/
[3] https://www.bbc.com/news/business-62226912
[4] https://variety.com/2022/tv/news/netflix-loses-subscribers-q1-earnings-1235234858/
[5] https://www.abc.net.au/news/2018-06-19/world-cup-optus-streaming-issues/9885172
[6] https://www.sporttechie.com/fans-demand-sports-streams-with-little-to-no-delay-compared-to-broadcast/