Sensors and Devices in Sport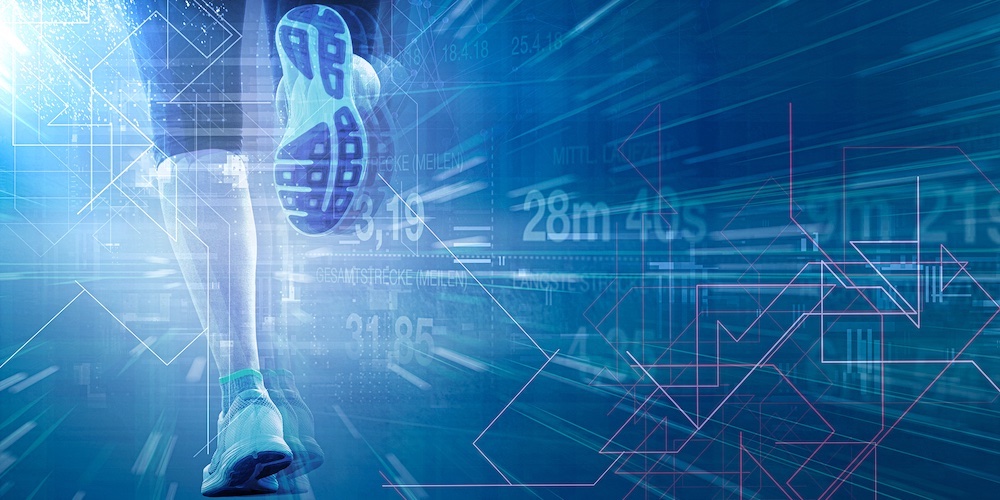 2021-11 Deployment of sports technologies is impacting a number of verticals in the sports industry: people are changing the manner in which they participate in sport; the attainment of health objectives is being assisted via recreational, non-competitive sporting activities; administrators and coaches are aggregating and vetting athlete data for talent identification and scouting; and fans and spectators are adjusting how they consume elite or grassroots events, both, live in-stadium or via broadcast channels. One specific example to illustrate how technology is impacting recreational activities is running.
Participation in Running
All over the world, running and jogging are amongst the most popular sporting activities in the world. According to statistics, in the USA 55.9 million [1] and in Australia almost 3.5 million [2] people are participating in some form of running activity. However, even before the pandemic closed down community sport, gyms and group-based activities, people have been increasingly opting to go for a run with headphones, smart device or wrist-based activity tracker rather than participating in organized track & field training activity. In addition, the tendency to record more than just times and splits has been fueled by a proliferation of commercially available, non-invasive, wearable sensor technology. Today, not only elite athletes or ambitious sports enthusiasts but recreational runners alike, record and monitor vital signs such as heart rate, temperature, respiratory and even sweat rate combined with measurements of movement.
Sensors and Devices in Running
Elite sport athletes have had access to a number of technologies. Whilst coaches have relied on stop watches, sports scientist, performance analysts and technologist have uses GPS tracking devices, timing gates, high-speed video or doppler-radar in addition to radio-frequency sensors, center-of-mass sensor arrays or even smart insoles in addition to a number of clinical biomarkers.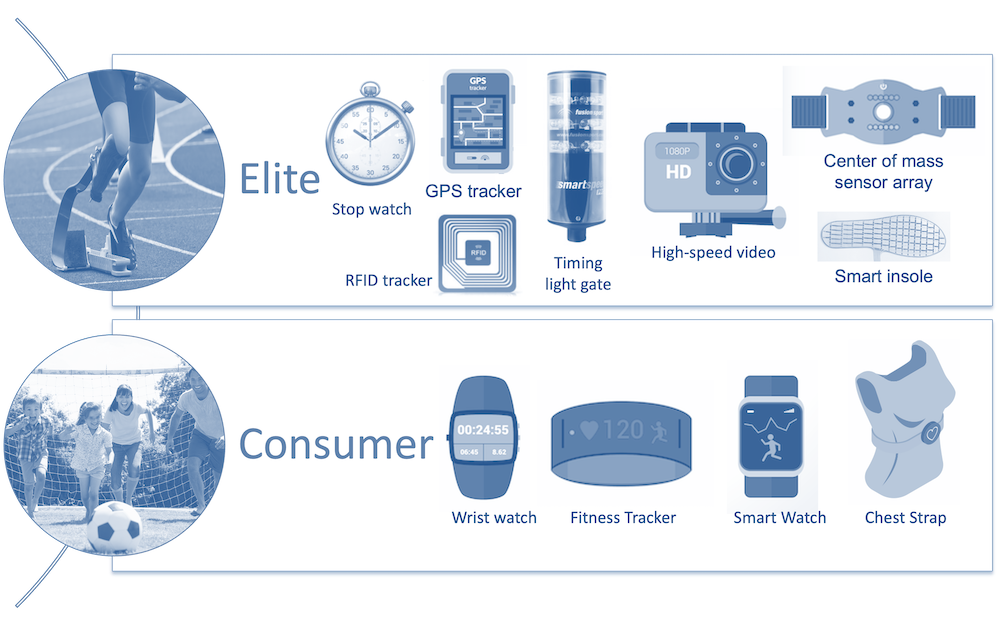 Fig. Sensors and Devices in elite and consumer sporting activities
However, with the emergence of fitness trackers, advanced smart watches and adoption of chest straps, the lines between sensors and devices for consumer versus elite athletes have started to blur. On the one side, what had been only available to elite athletes previously, has been translated to consumer devices. On the other hand, as availability and accuracy of non-invasive sensor devices increased, more and more elite athletes have also started to use consumer devices. In addition, more and more community and recreational sport events nowadays offer integrated timing solutions that provide a level of detail previously only accessible to major sporting events. In particular, such availability and functionality increases as these sensors and devices are connected to the cloud forming an Internet of Things (IoT) infrastructure.
Additional Information
If you are interested to discover further insights into the impact of technology on the business of sport, please contact chemneera.
References
[1] https://www.statista.com/topics/1743/running-and-jogging/
[2] Sport Australia; Ausplay Data