The Explosion in Sports Content Creation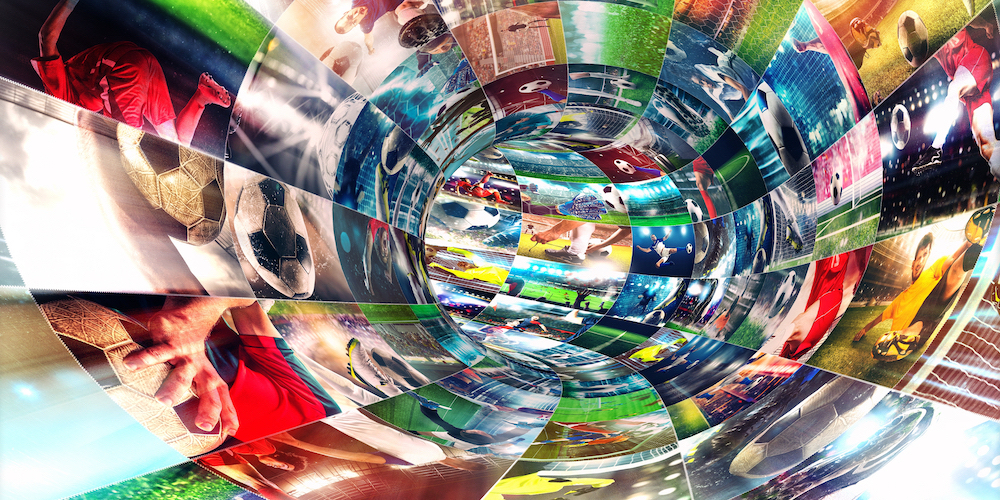 2022-09 In the digital era of marketing, the way businesses are trying to reach and communicate with their customers has shifted significantly. No longer is there a surplus of customer attention as there was in the broadcast age of marketing, where content was scarce and placing your advertisements during popular TV time slots was more than effective enough. In this digital age of abundance, the plethora of content available to customers through the internet results in a content surplus and customer attention scarcity. This means that businesses need to adapt and work harder to differentiate themselves and create appealing content that is valuable to customers.
This shift has seen the roles of marketers and marketing teams change to include activities more akin to those of a media company. Content creation and management have become one of the more central activities marketers perform these days. Whether that is producing, sponsoring or curating content for their audience, marketers are required to take an editorial media creator approach, focusing on generating content to draw in and hold the attention of their audience. At its core, business marketers in this digital age need to aim to become a source of authentic and valued content that is relevant to their customers. This type of content ideally encourages customers to engage of their own volition and even go as far as to seek it out and share it with others in their networks.
Sports Content and Core Concept
We similarly see these principles of digital marketing and this shift to content creation being adopted within sports. Both teams and leagues are changing the way they focus on building their brand and growing their viewership to take advantage of the opportunity it presents. Teams and leagues are leveraging the use of social media and video-sharing platforms to produce and provide content that is appealing to their target audience. Teams and leagues are implementing this strategy in many different avenues, experimenting with different types of content and seeing what resonates with fans.
One core concept that is carried across all the different avenues teams and leagues are using this strategy, is showing a personal face. Videos featuring popular players taking part in different challenges, quizzes, light-hearted interviews and displaying their personalities in a more casual and intimate manner are commonplace on the channels and pages of teams and leagues on these different platforms. Content that centres around a personal and relatable face rather than a faceless organisation tend to resonate with customers and fans on a much deeper level. This is also true for traditional businesses and we see this being displayed in many digital marketing campaigns.
Athletes these days seem to have more in common with celebrities than ever before, in the attention they garner and the way that fans idolise them. It is only natural that the content produced by these teams and leagues often centres around popular and even new players. It not only satisfies the key idea of showing a personal face but allows fans to get to know these players better and gain insight into who they are in a more casual environment. This also creates a great opportunity for new players to get introduced to a fan base in different engaging and light-hearted ways. A great example of this is the National Football League. After the Draft, the league itself releases videos featuring some of the most high-profile new players taking part in challenges, interviews etc. to allow fans of their new team to get better acquainted with them [1].
Offseason Content and Expansion into New Markets
The focus on content creation also provides a great opportunity to keep fans entertained and engaged during the off-season. During the season, matches, highlights and interviews keep fans entertained and engaged. During the off-season, it can be harder to ensure that fans remain connected. This is where content such as fun and silly challenges featuring popular players can come in to fill that void a provide fans with the opportunity to learn more about what their favourite players are like. Teams like Bayern Munich in Germany even produce series with multiple-episode of players competing in challenges to give fans something to look forward to during the off-season [2].
Off-season content also provides an opportunity for clubs to further their goal of growing their international popularity and viewership. Many teams are constantly trying to expand and grow their brand in foreign markets. One way that soccer teams in particular achieve this is through tours and pre-season games in foreign countries. During this time in the foreign market, content can be produced to work alongside the tour to grow followership of the club. For example, Bayern Munich and their most recent Audi Summer Tour played some preseason games in the United States. During this tour, they produced a whole variety of content to complement the goal of growing their brand in the US. They collaborated with popular figures from the National Football League, having their head coach and the coach of the Green Bay Packers take part in a discussion [3]. They had popular Bayern players taking part in American football challenges featuring Kansas City Wide receiver Mecole Hardman [4], as well as pre-game vlogs from Lambeau Field [5].
However, it's not just foreign markets in which content creation can help teams and leagues grow their popularity. Gaming is a new, fast-growing market that has become an extremely popular segment to feature in content created by these teams and leagues. With many of the athletes in these different sporting leagues playing video games themselves the connection between sport and gaming has become quite strong. The NFL has used this fact to their advantage creating its NFL Tuesday night gaming videos and a channel to go along with this [6][7]. This content features NFL stars partnering with Gaming creators to play many different popular video games. This attracts not only their own fans but the fans of these creators too, helping them grow their popularity in this market.
Content Partnerships
This close relationship between gaming and sports leagues and teams can also be seen in the partnered content that is being produced, in particular, when it comes to the sports video games series' Madden and FIFA. The NFL and its teams as well as many of the soccer leagues and teams around the world post an abundance of content related to their respective game. Often this content is in conjunction with the release of the game and features popular players reacting to and guessing the ratings of themselves and their teammates in the game. Real Madrid even had star players take part in game-like challenges to test their abilities and compare that to their ratings [8]. These games are very integrated into the culture of these sports, with many fans and players themselves playing them the ratings of the players are always a point of interest that draws a lot of attention which this content takes advantage of.
Partnered content also allows clubs to build stronger relationships with their sponsors. Bayern Munich for example have a long-time partnership with a local brewery. Every Oktoberfest they take a team with all their stars dressed in traditional lederhosen and create sponsored videos of players taking part in Oktoberfest-themed challenges [9]. This has been going on for quite a few years and works to create a stronger partnership and more effective marketing for both entities. This partnership content again shows the importance of the core concept, showing a personal face and how teams and leagues are leveraging these star players within the content. Finally, one of the more simple and effective ways to create content that an audience will seek out and find value in is by providing content that is useful. Content that solves a problem or answers a question for customers, can create extremely engaging experiences for them. Teams and leagues have taken advantage of this by posting tutorials to help fans learn certain skills and see how the players they idolise perform them.
Additional Information
If you are interested in further examples, please contact chemneera.
References
[1] https://www.youtube.com/watch?v=4MfTG5mOikM&ab_channel=NFL
[2] https://www.youtube.com/watch?v=I3JQLCXnljs&ab_channel=FCBayernM%C3%BCnchen
[3] https://www.youtube.com/watch?v=qmgs-zEEV3E&ab_channel=FCBayernM%C3%BCnchen
[4] https://www.youtube.com/watch?v=dp158G1YmT4&ab_channel=FCBayernM%C3%BCnchen
[5] https://www.youtube.com/watch?v=X5AyJpn2mEo&ab_channel=FCBayernM%C3%BCnchen
[6] https://www.youtube.com/watch?v=a125rVbEyxg&ab_channel=NFL
[7] https://www.youtube.com/c/NFLTNG/videos
[8] https://www.youtube.com/watch?v=zjz8jgn3L0U&ab_channel=RealMadrid
[9] https://www.youtube.com/watch?v=M-zI18-OyR8&ab_channel=FCBayernM%C3%BCnchen