Is the future of Fitness destined for the Metaverse?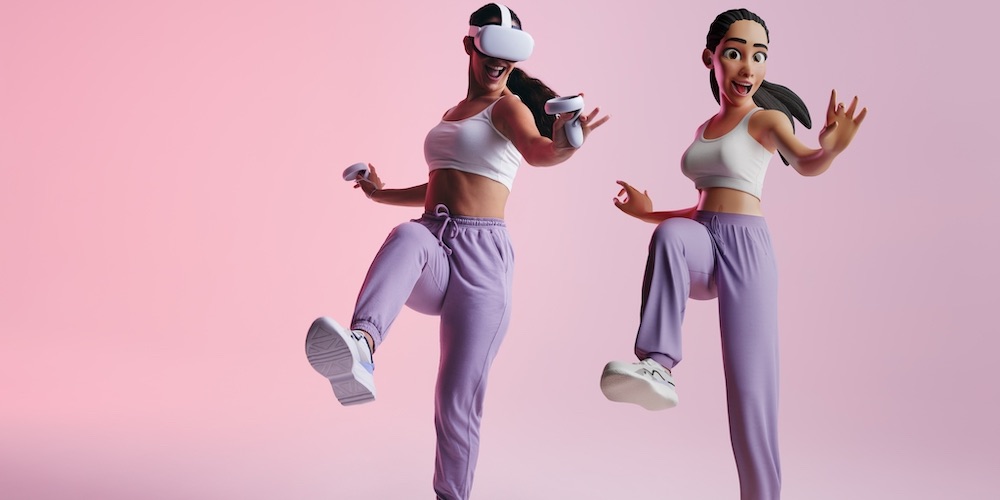 2022-08 The term 'Metaverse' was quickly thrust into the Spotlight back in October 2021 when Facebook's parent company announced that it would be changing its name to Meta. Since then, questions around what the Metaverse is and what its potential opportunities are, has become increasingly popular discussion. In an attempt to answer the first question, simply put, the Metaverse is an online virtual world that combines virtual and mixed reality to allow people to interact with each other [1]. Meeting new people, playing games like table tennis, and visiting art galleries and shows are just some of the activities that someone can take part in the metaverse [2].
Technology catalyses change in fitness industry
Fitness is one of many industries that has been presented with a potential opportunity with the emergence of the Metaverse. The fitness industry as a whole has been changing quite rapidly over the past few years. Factors such as the proliferation of technology such as wearables and non-invasive sensors have played a big role in this shift, as touched on in a previous article by Chemneera, 'Only open platforms are the future of connected fitness' [3]. The combination of that proliferation of technology with consumers growing demand for a deeper level of understanding of their own health and fitness has altered the fitness space immensely. For most consumers, technologies like wearables and smartphones are commonplace to help them track workouts and gain a deeper understanding, leading to the digitisation of the fitness industry.
This trend, like many, has only been accelerated through the pandemic. Different restrictions meant it was not always possible for people to work out and keep fit as they normally would. At-home fitness routines became the new norm, with this many personal trainers and gyms beginning to integrate online classes using channels like Zoom and other platforms to assist in running their sessions. At-home fitness equipment like the Peloton also saw increased popularity to assist consumers in remaining fit while being stuck at home. The question now is, with the cost of living ever increasing and the cost of returning to in-person workouts not getting any cheaper, is there a new hybrid solution that can take advantage of the lessons learned and habits formed through the forced home workouts and provide people with a new hybrid solution?
Big tech wants a piece of the action
Facebook's parent company Meta may have hinted at what they believe might be this hybrid solution in the not-so-distant future. Meta attempted to acquire a virtual reality company by the name Within [4]. Within's flagship product is a full-body fitness service for virtual reality called Supernatural. Their service is focused on providing people with a fun, new way to enjoy working out and promoting a healthier lifestyle [5]. Supernatural leverages expert coaches and the ability to place the user in beautiful locations around the world to provide fun workouts that help people reach their full potential [6]. Although this acquisition of Within for Meta was blocked by the FTC, this still signals Meta's interest in virtual reality fitness and perhaps the potential they see for fitness in their Metaverse.
Another company focused on the Metaverse that has begun to leverage the opportunity to incorporate a new hybrid fitness solution is Animoca Brands with their platform, The Sandbox. The Sandbox is a gaming platform that allows its users to play games created by themselves and other users, as well as exchange cryptocurrency for virtual plots of land, in-game items as non-fungible tokens (NFTs) and even, take part in virtual concerts like those popularised in the game Fortnite [7]. Animoca Brands has brought fitness into its metaverse with The Fitness Metaverse company part of OliveX. The Fitness Metaverse is a large area within The Sandbox that is looking to revolutionise the health and fitness sector. It aims to achieve this by taking advantage of expert coaching and gamification principles to help increase user engagement and participation [8]. This trend of incorporating the metaverse into hybrid fitness solutions has also gotten companies such as Peloton to begin to explore this avenue. Peloton has the potential to incorporate the metaverse with its highly regarded instructors to allow users to engage in interconnected workouts with friends where and whenever they please [9].
What will it look like?
Meta has recently caught criticism for how their Metaverse looks with people expecting it to look a little better and more realistic [10]. However, an interesting observation of these different approaches to hybrid fitness platforms is the contrasting artistic style choices they have taken within their platform. Supernatural has gone for a more realism-focused style, using virtual reality to place users in real breathtaking environments. While the Fitness Metaverse has opted for more of an artistic stylised approach, mirroring the Voxel style graphics of The Sandbox. This more stylised approach has also been incorporated by Meta in their Metaverse. With how rapidly virtual reality technology is improving these more stylised approaches are able to hold a lot longer, as what's perceived as a good level of realism now may not hold up to the standards just a couple of years from now.
Additional Information
If you are interested to discuss further, please contact chemneera.
References
[1] https://www.forbes.com/sites/deborahlovich/2022/05/11/what-is-the-metaverse-and-why-should-you-care/?sh=2b8a68b62704
[2] https://www.vice.com/en/article/v7dym9/what-can-you-do-in-the-metaverse
[3] https://www.chemneera.com/news-and-resources/only-open-platforms-are-the-future-of-connected-fitness
[4] https://www.nytimes.com/2022/07/27/technology/meta-facebook-vr-ftc.html
[5] https://www.with.in/about
[6] https://www.getsupernatural.com/
[7] https://www.sandbox.game/en/about/
[8] https://fitness-metaverse.com/sandbox/
[9] https://www.businesswire.com/news/home/20220208005725/en/Blackwells-Capital-Continues-to-Call-For-Urgent-Action-at-Peloton-Comments-on-Reported-Changes
[10] https://www.forbes.com/sites/paultassi/2022/08/17/does-mark-zuckerberg-not-understand-how-bad-his-metaverse-looks/?sh=2833480337d4